Life in the Costa Blanca has been proven by research to be very good for your health. For some of the hibernators and pensioners this is the reason to move to the Costa Blanca. The climate of the Costa Blanca and the famous sea breeze promotes health and is one of the best places in the world to live, this has been researched and confirmed by the WHO (World Health Organization). Those in need of health care can choose from a wide range of general practitioners, doctors, pharmacies and dentists on the Costa Blanca.
There are also a sufficient number of hospitals in the region that are generally equipped with a 24-hour first aid post. The effects of these sea breeze can only be found in a small coastal strip along the Costa Blanca. The weather conditions here are exceptionally consistent, due to the good geographical location and the surrounding mountains with magnesium minerals. The environment here is ideal for people who suffer from heart or lung disease, rheumatism, arthritis and asthma symptoms.
The Spanish government pays a lot of attention to the beautiful Mediterranean beaches, both sand and rock and many of these beautiful beaches have been awarded the Blue Flag. The Blue Flag is an award given annually by the European Strifung ????for Environmental Education. These beaches must meet a number of requirements based on four specific criteria: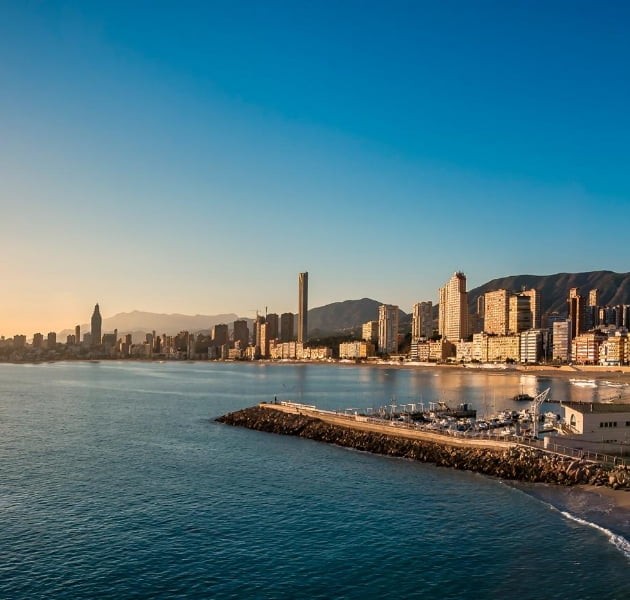 Bathing water quality
Information and environmental education for its users
Environmental management and safety
Services and facilities
In 2017, Spain was once again at the top of the world rankings with a total of 686 Blue Flags awarded (579 for the beaches and 100 for the ports). The Spanish Costa Blanca has one of the best microclimates in Europe, very good public and private hospitals specializing in cardiology and cardiac surgery, metabolic surgery and general surgery, plastic surgery, cosmetics or family care. Dentistry, implantology and oral surgery … In addition to anti-aging medicine, sports, aesthetics, neurosurgery, nutrition, naturopathy, eye surgery, rehabilitation, traumatology and orthopaedic surgery, urology as well as exclusive spas, wellness and a very healthy kitchen. Most of these centres offer the latest spa & wellness treatments. International market products combined with a variety of cultural, sporting relaxation and health treatments in the hotel, catering and entertainment sectors.

Stay fit
Keep your body healthy. It is very important to follow a good diet and everyone knows that the Mediterranean diet contains everything you need. Lovers of healthy and tasty food can choose local products (rice, tapas, deserts) or how about: anchovies, boquerones, calamares, doradas, langostines, bogavantes and shrimps. To stay healthy you have to take good care of yourself and where can you do that better than in Spain and especially on the Costa Blanca.